I use Firefox every day, I was sold on its speed, leanness and extensibility, but it looks like the Firefox team is loosing the plot. My friend James Crisp recently posted the following:
Finally, last week, after Firefox hung yet again using 100% of processor and over 300mb of memory, I decided to give Opera a go.
300MB? How about 1.5GB? I've left my Firefox v2.0.0.11 running overnight on my office machine with 3 tabs open and discovered the following in the morning: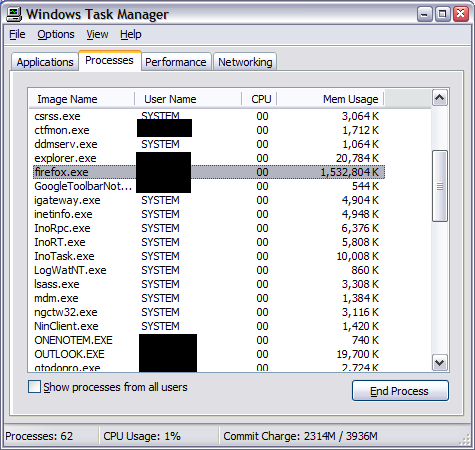 WTF, Firefox team? Is it time to give another browser a go to acheter kamagra?
2 Comments »
[…] I've been complaining about Firefox being a memory hog earlier, so I decided to try new Firefox 3 beta 2. It's been a lot less aggressive in its memory consumption and is quite stable, which is a fantastic result for a beta. On the down side, most of my add-ons stopped working. I can live without many things, but I can't live without Yahoo del.icio.us and Web Developer add-ons. […]

Pingback by Alex in a nutshell » Getting old extensions work with Firefox 3 — February 10, 2008 @ 8:35 AM

I suggest people look for enigma browser and download it from http://store.democratz.org

You can find the link just above the products and you can download it for free.

Engima runs faster than Firefox and you can easily run 32 tabs and not slow down the machine.
RSS feed for comments on this post. TrackBack URL
Leave a comment