Since my Dopod d810 died as a result of an accident, I needed to get a new smartphone. The choice is obvious – iPhone 3G. It's a nearly perfect device, however iTunes sync is sub-optimal. I couldn't get it to sync consistently at work, where I have Outlook 2007 with Exchange 2007 Server.
Sometimes it would sync, sometimes it wouldn't. After hours on the phone with Apple support I've narrowed down the problem – if Outlook doesn't talk to Exchange, everything works. As soon as Exchange is in the picture, it becomes an issue. I couldn't get my iPhone to sync with Exchange directly due to security policies at my workplace.
On top of that, sync with Outlook usually means that my Exchange calendar will contain both business and private events, which is rather sub-optimal, I'd rather keep my work environment business-only site.
So ideally I want the following:
Don't keep any personal info at work machine
Keep one central repository of all contacts and calendars (outside of work)
Sync iPhone with contacts on my home laptop (backup reasons and in case I don't have an Internet connection for some time)
No wires and as automated as possible
After some digging around and talking to several colleagues, I've came up with an optimal way of addressing all my sync needs. Take a look at the high-level diagram of the solution: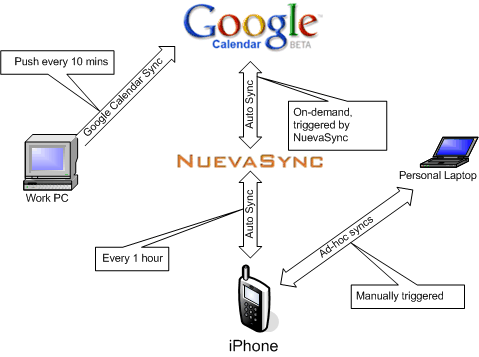 I already have a Google account, and Google Calendar is an awesome tool, BUT iPhone doesn't sync with it directly. Here comes NuevaSync. It's a free service that provides Exchange interface to Gmail, Google Calendar, and Plaxo.
You need:
Create a Google Account. It's free.
Download Google Calendar Sync utility to synchronise your Outlook/Exchange with Google Calendar. It's free.
Create a NuevaSync account. It's free.
Configure your NuevaSync account by providing your Google Account credentials.
Configure your iPhone to work with NuevaSync:

Click Settings >> Mail, Contacts, Calendar
Add a new Exchange account with NuevaSync credentials. Click here for full instruction (requires login on NuevaSync web site).

In Settings >> Fetch New Data uncheck Push email to save your battery. Instead select Fetch time more appropriate for your needs. I started with 15 minutes, but found 1 hour to be heaps better for battery life.
That's about it.
If I get a meeting request in my work inbox while I'm away from my desk, the request trickles through to my iPhone within short time and I can still make it.
Ad-hoc sync with my MacBook Pro works great via iTunes whenever I connect the iPhone to it. Apple did a fabulous job of syncing the iPhone with multiple machines, something I could never get my Windows Mobile phone to do.
I don't use email sync. I get too many emails at work and I don't feel like getting them on my iPhone. I get all my personal emails on the iPhone, however. In order to do that I've set up all my mailboxes in Google Apps (you can bring your own domain as well) and enabled IMAP via Google Control Panel. iPhone works with IMAP mailboxes very good and I found myself using iPhone mostly for all my email needs. As I do it in small intervals throughout the day, I don't need to allocate a huge chunck of time every evening to clear my Inbox.
This tip will also work if you have a Windows Mobile device.
UPDATE: Google now offers Exchange interface, hence there is no need to use NuevaSync. Just point your phone straight to Google: http://www.google.com/mobile/apple/sync.html